Add to favorites
Fun, excitement and new discoveries galore at Vulcania!
Exploring the natural phenomena of our beautiful planet
Just 20 minutes from Riom, in the heart of the Chaîne des Puys Volcanoes, Vulcania theme park is a family adventure unrivalled anywhere in Europe!
It's a thrilling visitor attraction that explores the world of volcanoes, natural phenomena and planet Earth. The cuddly mascot Pitoufeu, Matt the explorer and Professor Yapadrisk are waiting to say hello, and you can be sure they're keen to get you on their team!
Are you an adventurer or a scientist? Come to Vulcania and find out!
ALL THERE IS TO KNOW ABOUT THE GIANTS OF AUVERGNE
Unravel the fascinating mysteries of Planet Earth, starting with volcanism. The film First Flight is a stunning golden eagle's eye view high above Auvergne on a 180° screen that shows you just how vast the Chaîne des Puys really is. In Awakening of the Auvergne Giants, you watch what would happen if these sleeping monsters ever became active again. And the Sacred Volcanoes visitor experience, packed with exciting special effects, explores the legends surrounding volcanism.

Did you know? Most of the Earth's volcanoes are actually under the sea. The visitor experience Abyss Explorer takes you down into the shadows of the fascinating undersea world where little-known sea creatures hold sway.

And that's not all: the Volcano Drones visitor experience shows just how useful drones are to volcanologists… while putting on a great show! Prepare for some surprises! The brand new hands-on workshop in the Experiments Area, Drones and Volcanologists, explains what goes on the profession today and the important contribution that technology makes to the study of volcanic phenomena.

Lastly, the big attraction for 2020, Mission Vulcania – Rescue Operation, takes visitors on an incredible volcanic adventure with Matt the explorer and Professor Yapadrisk, on the search for Pitoufeu. The whole family will love this musical adventure!

All these experiences are designed to accompany the Auvergne Volcanoes Exhibition, with explanations from a science mediator as you go around.

Because the Vulcania theme park is all about learning while having fun!
INCREDIBLE NATURAL PHENOMENA
Vulcania also gives visitors the opportunity to learn about important natural phenomena related to volcanism, such as earthquakes and hurricanes. Angry Earth takes us through a series of destructive events: earthquakes, avalanches, lava flows and tornadoes, in an impressive display of the forces of nature in action!

Then, and it's one of the new features of this year 2021, the movie "Snow" gives us a chance to understand why this particular element is so important for us and for our planet.
Snow has always fascinated younger people as well a adults… This breathtaking movie is shown on one of the largest screens of Europe! 

Lastly, Vulcania will feature around summer 2021 a brand new area… and It will be all about earthquakes! Soon the earth will tremble at Vulcania, stay tuned!
You'll be able to understand how those natural phenomena happen and focus on the role of the brave rescue teams who work hard every day to reduce the risks posed by this natural phenomenon.
THE VIEW FROM SPACE
Back from Namazu safe and sound? The next stop is The Earth Revealed, a 30-minute interactive world tour with a science mediator. And what makes this experience even better? You're in control, choosing which volcanic destinations you want to visit! Played out on a 12 metre-long ultra-high-definition screen, this is an incredible journey.

Want to find out more about the history of our planet? In Earth Machine, Vulcania features a huge space of 650 m2 packed with fascinating technology that explores our Earth. This includes a zenithal projection and an interactive floor, plus explanations by Professor Yapadrisk's team at set times during the day.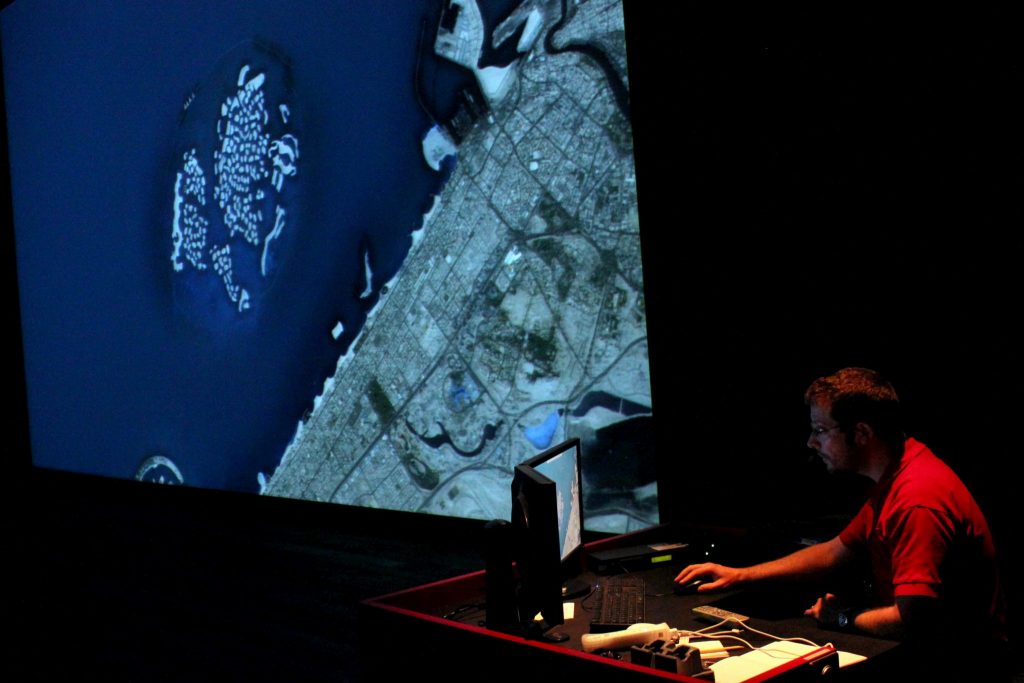 DRAGONS EXPLAINING VOLCANOES
Because there was once a time when science couldn't explain everything, Vulcania is about dragons too!
These mythical creatures were often claimed to be the cause of certain unexplained phenomena…
So, Dragon Ride, Vulcania's cult dynamic 3D attraction, is back with a roar in 2020, with Dragon Ride 2!

Henri de Dragoniac takes you on a study trip to investigate these legendary creatures, before leading you round his fabulous bestiary, which you can see on a brand new outdoor trail through the woods where some incredible creatures live… Eight impressive dragons await in this unforgettable Forest of Dragons!
LA CITÉ DES ENFANTS, IN PARTNERSHIP WITH LA CITÉ DES SCIENCES
La Cité des Enfants is a space for experimentation on all sorts of themes, enabling budding volcanologists aged 3 to 7 to learn about science while having fun. This dedicated area of 300 m2 is for children aged 3 to 7 to conduct experiments and enjoy hands-on scientific investigations. The aim is to use their Vulcania experience to ensure your children leave with magical memories of their visit while having learned some real science!

All these adventures allow your children to hold, feel, build and observe all sorts of materials that flow, shine, make a noise, and more… It's a tremendous opportunity for you to share some incredible discoveries with them.

In addition, visitors aged 6 to 12 will be given an explorer's notebook to take home with them, full of memories of their time at Vulcania… and you can be sure there will be plenty of those!
Information
Vulcania is open from March the 31st to 1 November 2021.
Please verify this information before your visit because of the Covid-19 pandemic.
Admission fees (prices vary depending on dates)
adults: €26.00 to €29.50
children aged 3 to 5 years: €6.00 to €8.00
children aged 6 to 16 years: €20.00 to €22.50
job seekers and students : €24.50 to €28.00
disabled: €24.50 to €28.00
group rate for 20 people or more
Tickets on sale at the Terra Volcana tourists office of Riom, Volvic and Châtel-Guyon