Add to favorites
In Terra Volcana, culture comes in all sorts of guises!
Cultural seasons to suit everyone
Terra Volcana is all about divertisity and discovery and serving up cultural programmes and events that bring everyone together. The events we organise here seek to bring life to city centres and rural communities, connect artists with audiences in sometimes out of the ordinary locations, and more…
So start planning what you want to do and get going on your cultural exploration of the region!

Are you as much into theatre and circus performance as you are in dance and music? Then the different cultural seasons on offer around Terra Volcana are for you! From Riom to Châtel-Guyon, Volvic to Mozac, variety is the spice for life!

Running in both winter (Accès Soirs from october to june) and summer ( Éclats de Fête), the cultural offering in the town of Riom serves up a huge variety of shows over these two seasons.
In short, there is something for every age and every cultural learnings. The different events takes place in the town's Salle Dumoulin and Rexy Theatre, and during the summer season, out in the streets too!

These two cultural seasons offer an eclectic mix of events and entertainments designed to showcase the full extent of Riom's cultural players and the talents of local performance troops.

In Volvic and Mozac there's plenty going on too with the La Source and Arlequin cultural seasons.
Every year these two towns come alive with a varied programme of events taking in just about every artistic discipline : music, theatre, dance, and even a festival especially for children!
A theatre with a big reputation!
Step inside the Theatre in Châtel-Guyon and you'll discover a stunning bulding of great character, reopened in 2015.
This theatre has a rather intimate atmosphere, attracting all sorts of artists to perform here in magnificent surroundings, the work of Parisien architect Albert Le Voisvenel in the late 19th century.
Besides plays, the theatre puts on talks and musicals, comedy acts and even circus acrobatics, performed in an impressive decor inspired by Italian theatres. Take a look and see what's on during the cultural season at Châtel-Guyon Theatre!
Dance festivals to gey you moving
Is dance your thing? When the music starts to play, do you find you can't stop your feet tapping along? Then you're in luck ! In Terra Volana there is no shortage of dance-music festivals offering any excuse to have a great time !

If you're interested in Auvergnat folk music and rural traditions, then Les Volcaniques is the place to be. Held in Saint-Bonnet-près-Riom, this week-long festival lifts the lid on the traditions of "the Pays Brayaud", re-living the kinds of festivities that have been celebrated here for centuries. The festival includes traditional "Bourrée d'Auvergne" music and dance courses, public dances and informal shows and concerts, some accompanied by hearty traditional festive meals. This festival takes place in the authentic surroundings of Le Gamounet, a 17th century coaching inn opened to the public specially for the occasion.

If Jazz is mùore your vibe, or you can't resist the foot-tapping rythm of swing, then make a date for the Festival Jazz Aux Sources.
Every year over the Whitsun week-end, the town of Châtel-Guyon gets into the swing of things, during this terrific dance jazz festival. With musicians and dancers coming from all over France, free concerts and lots of different dance classes, the festival has the whole town buzzing with energy!
And with classes available for all abilities, you can learn the ins and outs of be-bop, lindy-Hop, balboa, solo swing, and even tap dancing.

With so much going on, this week-end festival completely transforms the spa town of Châtel-Guyon. You'll find people breaking into dance on bar terraces, nodding in time to the music in restaurants, swinging on the street and flocking to the stage to watch the differents acts.
The highlight of the week-end? We think It's the inimitable parades that bring New Orleans vibe to the whole town. One thing's for sure, Jazz Aux Sources will give you stars in your eyes!
Listen with pleasure: Music fills the air…
Musical events for people of all ages are an important part of the visitor's experience in Terra Volcana.

The Piano à Riom festival that takes place every June puts classical music and the king of instruments – The piano – centre stage, but there's more to It than that!
The event was started by a group of friends fanatical about classical music, but since 2011 It has opened up to include other instruments and musical styles.
Ath this festival, the piano still grabs the headlines but occasionally gives way to other instruments such as the flute, oboe, clarinet and viola… With a variety of sounds that please everyone!

In 2020, Suzana Bartal, one of the most remarkable pianist of her generation, took over as artistic director.
Her extensive musical repertoire made her the obvious choice to take the reins of this festival, and she has put together a varied programme with exceptional artistic credentials. Come to Riom, close your eyes and let the sound of the the piano take you to another place!

In summer, the soft embrace of music drifts gently through the warm air in the town of Volvic and the surrounding villages – when the Soirées Vol'Zic evening concerts are on.
This event features a programme of free open-air concerts that you can listen to from all around the town, perhaps on the terrace of a restaurant or café.
If that sounds appealing, then look out for the concerts held at 9pm every Friday evening in the streets of Volvic over the two months of summer!

And summer in Châtel-Guyon is something special too, with Les Estivales taking place in July and August, a series of free concerts put on by the Casino, in partnership with the town council.
The concerts feature every musical style in the relaxed and sociable atmosphere of the Parc Thermal : French variety, acoustic sets, blues, rock and even Celtic folk music… A delightfully varied programme to liven up your summer evenings!
A nationwide event taking place in Terra Volcana
Fancy a sneak peek at monuments not usually open to the public? Want to push open the gate to a private garden and take a look inside? Or discover the skills and expertise behind our local arts and crafts? The French Ministry of Culture organises various events around the country, some of which take place in Terra Volcana – and they're not the usual cultural offerings!

As part of the European Heritage Open Days held every September throuhgout Europe, Terra Volcana's historical monuments throw open their doors.
See a different side to some of our flagship tourist attractions with a host of events taking place in the region.
In some cases, you will have access for the first time ever to buildings not normally open to the public.

A similar idea lies behind the Journées Européennes des Métiers d'Art, which takes place every April in France and all over Europe.
This event enables visitors to dip into the world of arts and crafts like never before. And, in Terra Volcana you can get up close and personal with our local artisans, witnessing their talents and skills in action.
Their door will be open : come on in and watch them at work – they'll be delighted!

In June, there's another event in Terra Volcana : Les Rendez-Vous aux Jardins, which gives you the chance to explore the many parks and gardens around the region. The thinking behind this event is to encourage a dialogue between the public and the people running these green areas.
It's also about giving visitors the chance to learn more about these delicate natural spaces and the importance of preserving them. It's a marvellous opportunity to learn more about nature's wonders.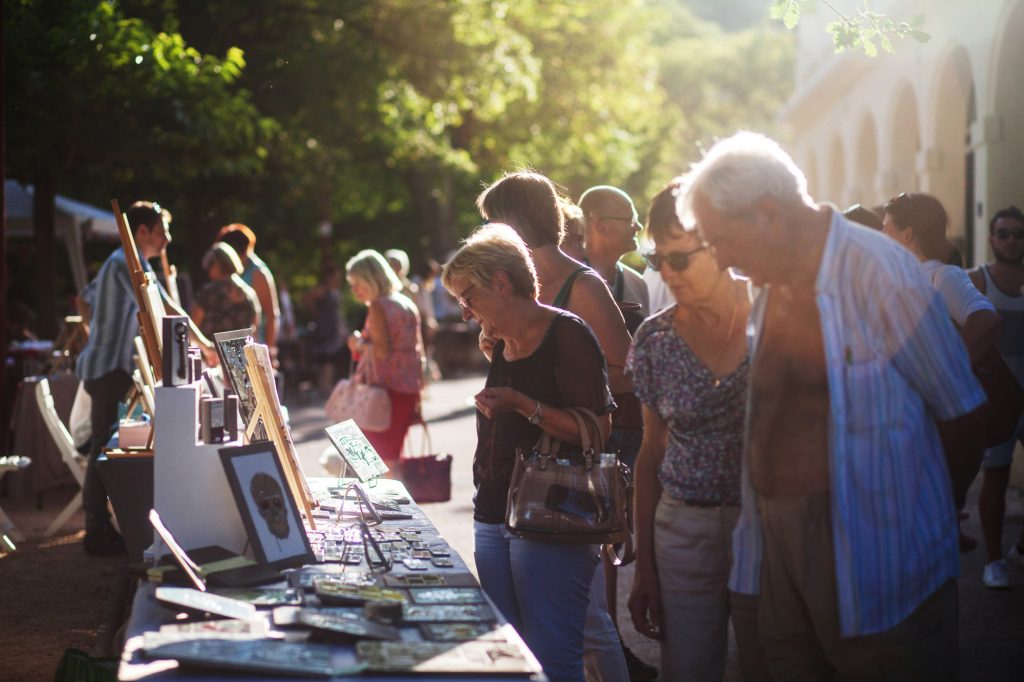 Do you have all those dates in your diary? Now you have everything you need to enjoy Terra Volcana through the mlany and varied events that take place here throughout the year… A fun and original way to explore our region from a different angle!